Butler county owner of red 1957 Corvette in 1976
Need of owner(s) of 1957 Corvette red race car (i.e. vin # E57S101335) that was sold to Canadian person George Pascoe in
1976. CAR WAS REGISTERED IN OHIO IN BUTLER COUNTY
Black seats. No roll bar . Replacement 327 cu. in. engine. Car had "I"
BEAM front suspension lift. Morosso hood scoop. Americain Thrust Wheels. Morosso Tach . Originally car was a heater
and radio delete red three
speed fuel injected car.
Picture can be seen at;
name owner red 1957 Corvette in 1959 era video | Queen City Motorsports ...
qcmmessageboard.proboards.com › General Board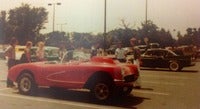 car was raced at one of:
(i) Beechmount or (ii) Hamilton Tri-State Dragway or (iii) Xenia Kil-Kare Dragstrip or (iv) Edgewater Raceway Park Drag Strip or
(v) Rock Haven Drag Strip
Bill Keogh
E mail: wllmkeogh@yahoo.com
Tel : 905-8712341
w.keogh
Posted : 15/02/2015 12:19 pm